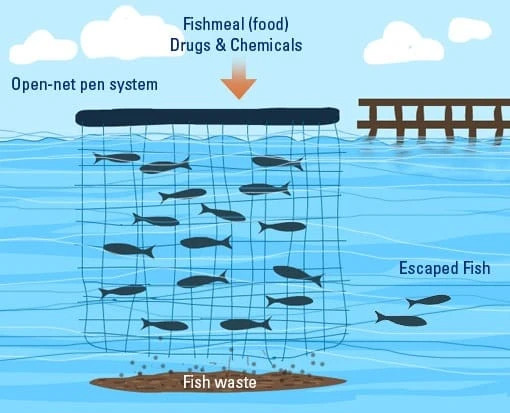 Cage Culture
Cage culture is an emerging technology through which fishes are reared from fry to fingerling, fingerling to table size or table size to marketable size while captive in an enclosed space that maintains the free exchange of water with the surrounding water body
Fish can be cultured in one of four culture systems—ponds, raceways, recirculation systems or cages. A cage or net pen is a system that is enclosed on all sides with mesh netting made from synthetic material that can resist decomposition in water for a long period of time.
Cage culture is an emerging technology through which fishes are reared from fry to fingerling, fingerling to table size or table size to marketable size while captive in an enclosed space that maintains the free exchange of water with the surrounding water body. A cage is enclosed on all sides with mesh netting made from synthetic material that can resist decomposition in water for a long period of time. The on growing and production of farmed aquatic organisms in caged enclosures has been a relatively recent aquaculture innovation.
Types of Cage
Four types of cage are used in cage aquaculture:
1. Submerged – Submerged net bags are fitted in a solid and rugged frame and submerged under the water. Their use is very limited.
2. Submersible – The net bags of submersible cages are suspended from the surface, have adjustable buoyancy, and may be rigid or flexible
3. Fixed – The fixed cage is the most basic and widely used in shallow water with a depth of 1-3 meters. It consists of net bag fitted to posts and is normally placed in the flow of streams, canals, rivers, rivulets, shallow lakes and reservoirs, not touching the bottom. Fixed cages are comparatively inexpensive and simple, but their use is restricted
4. Floating – Floating cages are supported by a floating frame such that the net bags hang in water without touching the bottom. Floating cages are generally used in water bodies with a depth of more than 5 metres. Enormous diversity in size, shape and design has been developed for floating cages to suit the wide range of conditions of fish culture in open waters.
Operation of Cage Culture
1. Stocking – The stocking density of fish depends on the carrying capacity of the cages and feeding habits of the cultured species. For those species which are low in the food chain, stocking will also depend on the primary and secondary productivity of the sites. The optimal stocking density varies with species and size of fish and ensures optimum yield and low disease prevalence
2. Feeding of Fishes – The chances of natural food supply in cages is much less, hence a regular supply of artificial food is necessary. The food pellets are usually composed of raw materials of animals (about 70%) and plants (about 30%). The animal raw materials mainly consist of meat, liver meal, bone meal, blood meal etc. and the plant raw materials are plant proteins, ricebran, oil-саке, soyabean meal etc.
3. Water Management – Water in the pond is kept at certain levels for optimal fish growth. In general, a pond water depth of 1 meter is considered best for culture of fishes; traditional milkfish ponds can do with just 40-60 cm of water.
Advantages of cage culture
a. Low initial investment – Relative to the cost of pond construction and its associated infrastructure. Cage culture in an existing body of water can be inexpensive.
b. Resource use flexibility – Cage culture can be established in any suitable body of water, including lakes, ponds, mining pits, streams or rivers with proper water quality.
c. Simplified cultural practices – Cages lend themselves to straightforward observation of the fish. The observation of fish behavior, especially feeding behavior, is critical to anticipating and avoiding problems with stress and diseases, which often occur in cage culture.
d. Simplified harvesting – Cages are usually harvested by moving them into shallow water, crowding the fish into a restricted area, and simply dipping the fish out of the cage. Or, the cage can be lifted partially out of the water so that the fish are crowded into a smaller volume, and then the fish dipped out. This makes it possible to partially harvest fish from cages as needed for local niche markets or personal consumption.
Enquire Now