Dr. AJAI KUMAR BANA (Fish Inspection)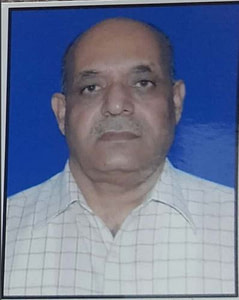 +91-9412830214/9971588304
 Brief:
 Work Experience:
A highly experienced and motivated individual, looking for a platform where I can impart knowledge gathered over the years in my field. I make it a point to stay in touch with newer information. My years of research, study and work in the field have motivated me to continue my foray in the field by sharing my knowledge with the present generation, for the greater good of those individuals and the field of study. As an educator, I hope to motivate, encourage and create interest in the field of Fisheries and Zoology, as a whole.
Current Position:
Assistant Director (Fisheries),
Gautam Buddha Nagar.
Holding additional charges as Asst. Director (Fisheries), Ghaziabad & Hapur.
Employed in Fisheries Dept., Uttar Pradesh.
Director (Fisheries), Gautam Budh Nagar – 2018 to 2020
Additional charge of Asst Director (Fisheries), Ghaziabad & Hapur – 2018 to 2020
CEO, UP Fisheries at Mainpuri – 2017 to 2018
CEO, UP Fisheries at Gautam Budh Nagar
– 2012 to 2017
Divisional In-Charge of Divisional Soil Water Testing Lab, Divisional Fisheries Office, Meerut – 2007 to 2012
CEO, UP Fisheries, Muzzafarnagar – 2005 to 2007
Divisional In-Charge of Fisheries Co- Operative Societies, Moradabad – 2003 to 2005
Divsional In-Charge of Divisional Soil Water Testing Lab & Fisheries Co- Operative Societies, Meerut – 1993 to 2003
Sub-Divisional In-Charge, Fisheries, Barielly – 1991 to 1993
Research Experience – 7 years
Teaching as Contractual Faculty (Zoology Dept.), Meerut College, Meerut – 3 years
Educational Qualifications:
| | | |
| --- | --- | --- |
| 01 | PGD(AE)M in Agricultural Extension, National Institute of Agricultural Extension Management (MANAGE), Hyderabad | 2007 |
| 02 | Ph.D. in Zoology, Meerut University, Meerut | 1992 |
| 03 | M.Sc. in Zoology with specialisation in Fish & Fisheries, Meerut University, Meerut | 1984 |
Training Specialisations:
Participated in the specialized training programme for 'Accounting & Legal Aspects of Co-operative' by Indira Gandhi Cooperative Management Institute, Lucknow (2004)
Participated in training/workshop on 'Extension Methods for Livestock & Fisheries Extension' by CCS Haryana Agriculture University, Haryana (2006)
Participated in training programme 'Advancement in Fisheries & Agriculture' at Central Institute of Fisheries Education (Deemed University ICAR), Mumbai (2007)
Participated in training programme on 'Integrating Disaster Risk Reduction (DRR) & Climate Change Resilience (CCR) in Rural Development (RD) Policies and programmes' at National Institute of Rural Development & Panchayati Raj, Hyderabad (2019)
Research Papers & Conferences:
Participated in 5th Annual Symposium on Development Biology by Department of Zoology, Meerut University (1983)
Participated and presented a research paper at 7th Annual Session Conference of Academy of Environmental Biology, India at Dr. Gaur Viswavidyalaya, Madhya Pradesh (1986)
Participated in 8th Annual Session of Academy of Environmental Biology and presented a research paper on 'Environmental Pollution & Pesticide Toxicology' at Department of Bio-Sciences, University of Jammu (1987)
Participated in the 9th Annual Session of Academy of Environmental Biology and presented a research paper on 'Environmental Risk Assessment & Management' at Jai Research Foundation, Gujarat (1988)
Participated in 10th Annual Session of Academy of Environmental Biology and presented a research paper on 'Environmental Impact on Bio-systems' at Loyola College, Chennai (1989)
Participated in 11th Annual Session of Academy of Environmental Biology and presented a research paper on 'Enviornmental Pollutants & Resources of Land and Water' at Marathwada Universtiy, Aurangabad (1990)
Participated in 15th Annual Session of Environmental Biology and presented a paper on 'Management of Ecosystems & Sustainable Utilisation of Biological Resources' at Kerala Agricultural University, Trivandrum (1994)
Participated in National Colloquium on 'Wildlife Conservation & Animal Welfare Issues in India' at Department of Zoology, Meerut University (2005)
Accolades & Awards:
Best Research Presentation Certificate at the 10th Annual Session of Academy of Environmental Biology held at Loyola College, Chennai (1989)
Received many appreciations in Administration for Excellence in performing Administrative duties allotted from time to
Life Member of Academy of Environmental Biology
Publications:
C. Bhatnagar, A.K.Bana and R.C. Dalela: Glucose-6-Phosphatase Activity in Few Tissues of Fresh Water teleost, Channa gachua following invivo Exposure to Thiodon. Proc. Acad. Environ. Biol.; "Environment & Eco Toxicology". 111-115 (1987)
C. Bhatnagar, A.K. Bana and R.C. Dalela: Histopathological Alterations in Liver of Channa gachua (Ham.) Exposed to Endosulfan. Proc. Acad. of Environ. Biol.; "Environment & Pesticide Toxicity". (1988)
C. Bhatnagar, A.K. Bana and R.C. Dalela: Histological Damage of Kidney in Channa gachua exposed to Acute and Sub-Acute Levels of Endosulfan
.Proc. Acad. of Environ. Biol.; "Environmental Risk Assessment" 145-150 (1989)
C. Bhatnagar, A.K.Bana, Meenakshi Tyagi & R.C. Dalela: Pesticide Induced Alterations in Alkaline Phosphatase Activity in Liver & Muscles of Channa gachua. Proc. Acad. of Environ. Biol.; "Environmental Impact on Biological Systems" 155-159 (1990)
C. Bhatnagar, Meenakshi Tyagi and A.K. Bana: Malathion Poisoning to Clarias batrachus: A Histological Study. Proc. Acad. of Environ. Biol.; "Toxicology, Conservation & Biodiversity" 119-123 (1994)
C. Bhatnagar, A.K.Bana, and Susmita Bhatnagar: Toxicity of a few Pesticides to a Freshwater Teleost, Clarias batrachus (Linn.) J. Environ. Biol. 9(3Suppl.).283-288 (1988)
C. Bhatnagar, A.K.Bana and Meenakshi Tyagi: Respiratory Distress to Clarias batrachus (Linn.) Exposed to Endosulfan – A Histological Approach. J.Environ. Biol. 13(3), 227-231(1992)